If you're currently wearing glasses for vision correction and want a change, you're likely researching a lot about contact lenses. Contact lenses are a popular vision correction tool as they eliminate the need to wear glasses all day, and come in a variety of types to suit your needs.
One thing to consider is how long your new contact lenses will last. Like all medical devices, contact lenses have a lifespan and need to be replaced regularly.
The lifespan of a contact lens depends on several factors, including the type of lens, the frequency of use, and how well the lenses are cared for.
Disposable or Reusable Contact Lenses
There are two main types of contact lenses:
Disposable. These are typically soft contact lenses.
Reusable or rigid gas-permeable lenses.
Disposable lenses are designed to be worn for a specific period of time and then thrown away, while reusable lenses can be worn for more extended periods but still need to be replaced eventually.
Disposable Lenses
Disposable contact lenses are available in daily, weekly, and monthly replacement schedules. Daily disposable lenses are worn for one day and then discarded, while weekly and monthly disposable lenses are worn for a week or a month before being replaced.
The benefit of disposable lenses is that they are convenient and easy to use, and they eliminate the need for cleaning and disinfecting. However, they can be more expensive in the long run compared to reusable lenses.
Reusable Lenses
Reusable contact lenses are made of a more durable material and can be worn for longer periods, typically up to a year. However, they still need to be replaced eventually because the material can break down over time and become less effective.
In addition, reusable lenses need to be cleaned and disinfected regularly to prevent the build-up of bacteria and other contaminants.
Lens Material
The frequency of lens replacement also depends on the type of lens material. Soft contact lenses are made of a hydrogel material that absorbs water and can get dry and uncomfortable to wear over time.
As a result, soft lenses need to be replaced more frequently than other types of lenses. On the other hand, rigid gas permeable (RGP) lenses are made of a harder material that doesn't absorb water and can last longer than soft lenses.
Good Eye Hygiene
It's also important to practice good hygiene when handling and wearing contact lenses to prevent the risk of infection. This includes:
Washing your hands before handling the lenses
Storing them properly
Replacing them as directed.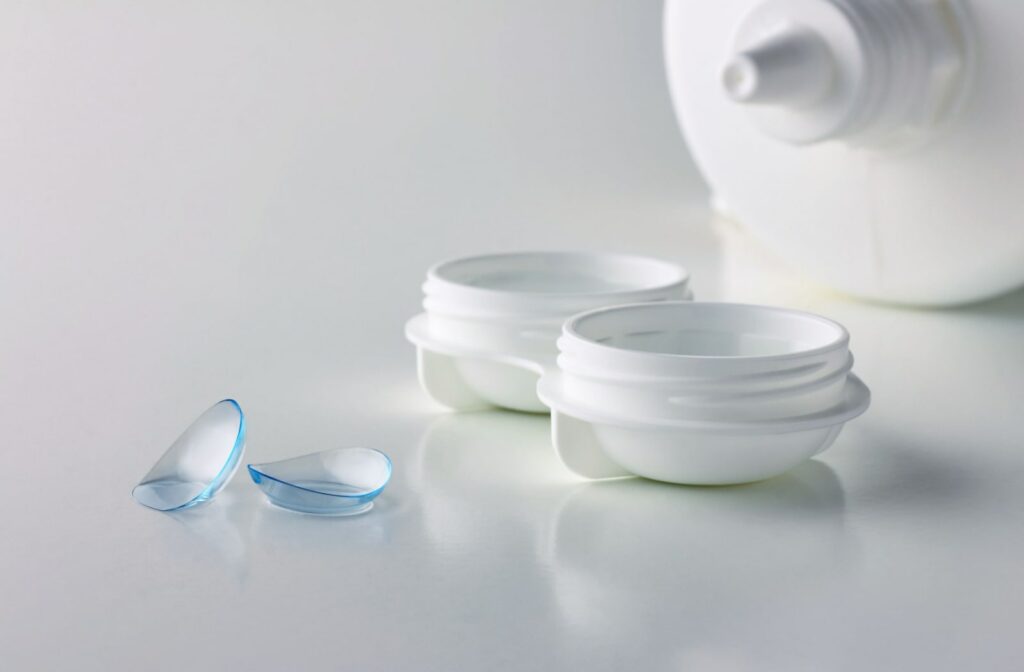 Why Do My Contact Lenses Have an Expiry Date?
If you've ever looked at the box in which your contacts arrived, you may have noticed an expiration date on the side. Hopefully, that deadline has not already passed.
Soft Contact Lenses
Soft contact lenses are typically sterilized before they are placed in airtight blister packs containing saline solution. These packages typically have a shelf life of 3–4 years from the date of manufacture, as long as they remain sealed.
It's worth noting that the contact lenses themselves do not have an expiration date. Instead, it's the saline solution that expires, and its active ingredients may begin to break down after the expiration date. Additionally, the seal on the blister pack may weaken over time, potentially allowing air or bacteria to enter.
Your Prescription Can Change
Your prescription is only valid for a certain amount of time as well, typically 1–2 years. Once it expires, you'll need to see your eye doctor again to get an updated prescription.
It's really important to follow this guideline because if you wear contact lenses with an outdated prescription, you might experience blurry vision or even headaches. So don't forget to schedule those regular eye exams to keep your vision clear and your prescription current!
What Happens If I Continue to Use Expired Lenses?
It's important to follow the replacement schedule recommended by your eye care provider. There are several risks associated with using expired contact lenses.
Improper lens hygiene and failure to follow replacement schedules are 2 of the most common causes of contact lens-related eye infections, which can cause a range of symptoms including:
Partial or total loss of vision
Sensitivity to light
Scarring
Inflammation
Red eyes
Moderate to severe eye discomfort
If you experience any of these symptoms, it is important to seek medical attention from an eye care professional as soon as possible.
Contact Lens Exams In Pittsburgh
The lifespan of a contact lens depends on the type of lens, the frequency of use, and how well they are cared for.
If you're ready to make the change to contact lenses, book an appointment with McCauley Celin Eyecare Associates for help choosing the right kind to fit your lifestyle, a contact lens fitting is a great first step!