Maintaining optimal eye health is important to leading a happy and fulfilling life. However, we understand it's not always easy. Life is fast and complicated, but one of the most effective ways to do this is by having a professional inspect your eyes and vision regularly.
It's not just for you, either. Your kids deserve to have their eyes taken care of, and comprehensive eye exams not only detect vision problems but also provide insight into the overall health of your family's eyes. While achieving this level of comprehensive care may take some time, it is worth it if it keeps your vision crystal clear.
You should have an eye exam at least every two years, though children, seniors, and people with preexisting ocular conditions should have more frequent visits.
Recommended Eye Exam Schedule
According to the American Optometric Association (AOA), the recommended schedule for eye exams is as follows:
Children should have their first eye exam between 6–19 months of age
One exam between ages 3–5
Yearly exams between ages 6–17
Exam at least every two years between ages 18–64
Annual exams for ages 65+
Comprehensive eye exams are about more than simply how well you can see. Some eye diseases, such as glaucoma, macular degeneration, and diabetic retinopathy, may exhibit little or no symptoms in their early stages. However, optometrists have high-tech diagnostic equipment that may detect early signs inside your eyes before they cause significant damage to your vision.
This is why high-risk people should follow their optometrist's suggestions and potentially have check-ups more frequently. High-risk factors include:
A family history of eye disease
Diabetes
High blood pressure
Taking medication with side effects that may affect the eyes
Genetics
Wearing contact lenses
Previous eye surgery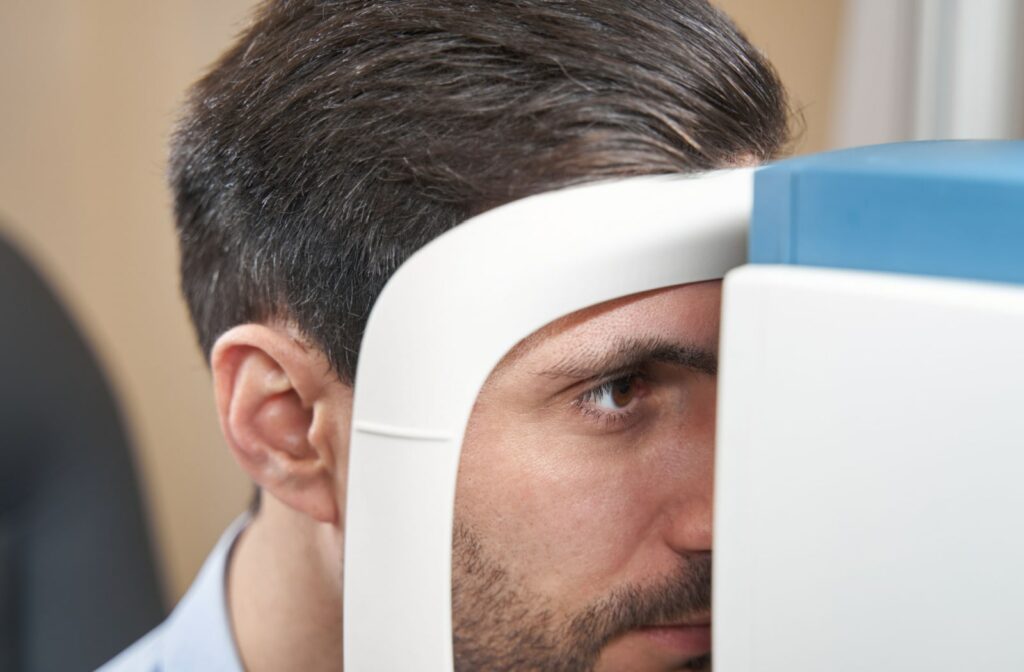 The Comprehensive Eye Exam Process
While the length of an eye exam varies depending on your age, medical history, and the type of exam you're having, it generally takes 30 minutes to an hour.
A comprehensive eye exam might involve the following tests:
Detailed Medical and Ocular History
Suppose this is your or your child's first time visiting an optometrist. In that case, we may ask about your current symptoms, family history of eye disease, medications, and any previous eye surgeries.
The benefit of becoming familiar with an optometrist is we can track your eye health and suggest tests more suited to your needs or those of your children.
Visual Acuity Test
The visual acuity test measures how well you can see at different distances. This test typically involves using a chart, which could be a classic Snellen chart, but your optometrist may instead use a digital screen placed at a set distance.
By reading off letters or symbols of different sizes, your optometrist can begin to determine if you need eyeglasses or contact lenses to correct your vision.
Refraction Test
The refraction test is essential to a comprehensive eye exam that can determine your prescription. During the test, your eye doctor may ask you to look through a series of lenses and tell them which ones provide you with the sharpest vision.
They also may use an auto-refractor, which measures how light refracts off your cornea, the clear dome on the front of your eyes. Altogether, a refraction test can help diagnose refractive errors, which affect the eye's ability to focus on objects clearly at different distances. By prescribing the correct lens power, your optometrist can help you see better to reduce eye strain and headaches.
Eye Movement and Alignment Test
Clear sight isn't the only factor in optimal vision; eye movement tests can measure how well your eyes work together. This can be particularly important for children, who use their eyes to learn and grow. A child dealing with vision issues can have trouble with school and sports.
This test examines your eye coordination by having you follow an object with your eyes, checking for any misalignment or weakness in your eye muscles. Notably, a coordination problem doesn't necessarily have to be because of weak muscles; it could be a communication breakdown between your eyes and brain.
Eye Health Exam
An eye exam is also essential for tracking your eye health. Since some diseases are first present inside your eye, your optometrist may use a slit lamp to see the internal structures and look for abnormalities. They can also use advanced imaging technology to inspect your retina and optic nerve.
Glaucoma Testing
Glaucoma is a group of degenerative eye diseases affecting the optic nerve. It is one of the leading causes of blindness in people over 60.
While there are different types of glaucoma, its leading cause is fluid pressure building up in the eyes. Your optometrist can monitor this pressure using a tonometry test. In this test, we use a gentle probe or a puff of air against your eye and see how much it resists indentation.
Family-Focused Eye Care in Pittsburgh
McCauley Celin Eyecare Associates understands that when you take the time to come in for an eye exam, you're trusting us with your health. Our highly trained and friendly team is committed to providing your entire family with the best eye care possible.
If it's been nearly two years since your last eye exam or even longer, contact us today and schedule an appointment that works for you! We have three convenient locations in the Pittsburgh area: Wexford, Perrysville, and Gibsonia.