Your optometrist can fit your frames with lenses that correct various vision issues, but you may be wondering if you should buy your glasses from the optometrist or get a prescription and go elsewhere.
It may actually surprise you that there are many benefits to purchasing glasses from your optometrist. You may find warranty and after-sales service superior at your local optometrist versus an online provider, and there's no denying the customized service and expert knowledge you receive from an eye care professional.
Could you save money going elsewhere, or will another provider offer a better selection? When every dollar counts, these are all valid questions, and you want the best product and selection to spend your hard-earned money on. Knowing the specific benefits you can expect when dealing with most optometrist offices can help you make the right choice.
Benefits of Buying Glasses from Your Optometrist
When you visit us, we can help you select the right eyewear for your vision, ocular health, and lifestyle. Purchasing glasses from an eye care professional has several benefits you may not receive if you buy eyewear unassisted.
Expert Advice
When you are looking to buy new glasses, you may have just received your eye exam. So, not only will your eye doctor be able to offer expert advice based on their extensive knowledge of the eye and its related topics, but they can also offer you expert advice tailored to your specific eye health, vision needs, and aesthetic desires.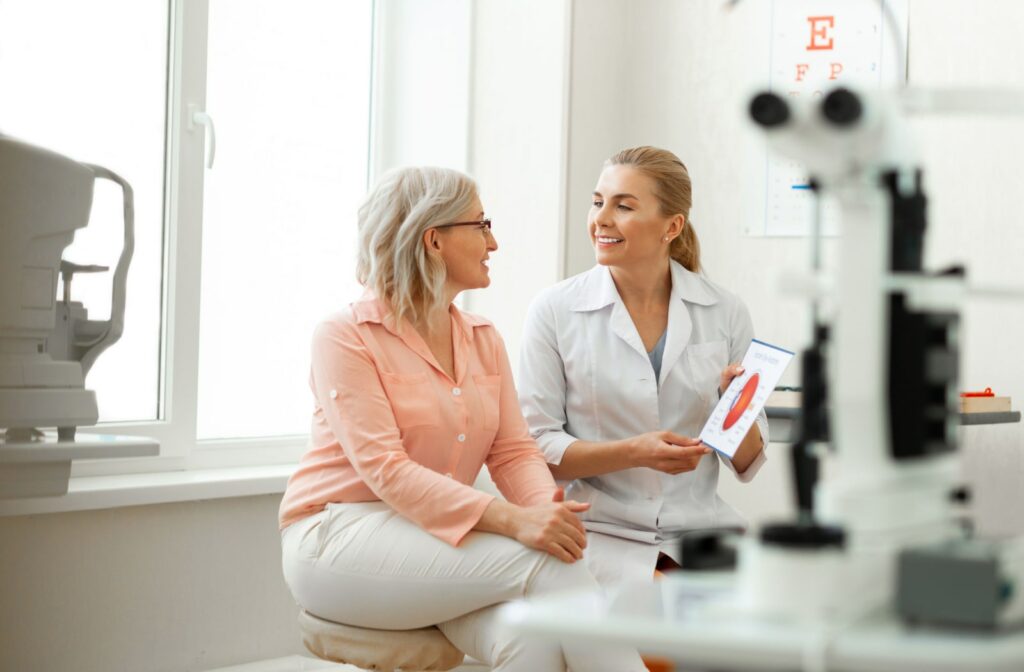 After-Sales Care & Warranty
An optometrist may sell products they partner with and are often authorized to perform warranty repairs and replacements on the spot. Not only can this save you time, but even if there is a non-warranty problem, walking in and seeing a person face-to-face is valuable.
It's not uncommon to need slight adjustments on glasses frames. This could be more or less common, depending on the frames. If this happens to you, your optometrist can adjust them for you. The lack of in-person support can be a hindrance when shopping online.
Cost Savings
Many people assume prices will be lower online, but that is not always true. Many optometrists carry a select number of brands and often have access to special promos and sales they can pass on to you!
No matter where you shop, higher and lower-priced options are typically available. The key is finding an optometrist with a good selection of quality frames that catch your eye.
Disadvantages of Purchasing Your Glasses Elsewhere
When buying glasses, purchasing them online may seem like a simple, affordable option, but it can often lead to poor results. Without having an optometrist measure your vision and examine your eyes, you could be left with glasses that make seeing more difficult rather than easier.
Other disadvantages of purchasing glasses online or over the counter include:
Some online stores may not take insurance.
If you receive the incorrect prescription, it may give you blurry vision.
It can be difficult to measure your own pupil distance, which is needed to purchase prescription glasses.
You won't have the same personalized experience you would with an in-office optician.
Buying glasses from a professional optician ensures you get a tailored product that offers the best solution to your vision condition.
If something isn't quite right or doesn't fit correctly, opticians can adjust them to ensure maximum comfort and accuracy.
Find a Great Collection of Frames & Lenses
Your glasses shouldn't simply be a tool to help you see clearly. They can be as unique as you are—an extension of your personality. At McCauley Celin Eyecare Associates, we want to ensure you receive eyewear that meets all your needs.
We offer brands to fit anyone's style, including Tiffany & Co., Ray-Ban, Gucci, and Nike. Stop by one of our locations and let our professional team help you find the perfect frames. When you book an appointment with us, we can help you pair your new frames with lenses that fit your vision needs.